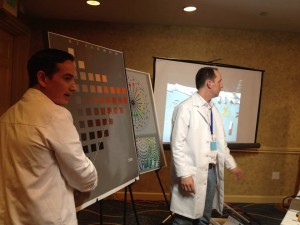 In early March, 2014, over 300 people in the art world came to Ventura, California to attend the Representational Art Conference, also known as TRAC 2014. It's an international gathering of those interested in exploring "representational art's place in the 21st Century." Artist Graydon Parrish, along with co-presenter Steve Linberg, presented a studio demonstration named "The Munsell Color System for Artists" to a standing room only audience. We interviewed Graydon Parrish to learn more about his presentation.
The approximately 150 people who attended the session were predominantly artists, with perhaps 25% consisting of other people in the art world, such as gallery owners, art scholars and philosophers. Most had heard of the Munsell Color Order System and were curious about it, but hadn't learned how to apply it specifically to painting. ­

Parrish and Linberg donned white lab coats and performed a "Bill Nye the Science Guy" schtick, playing off of each other with Parrish being the "art guy" and Linberg acting as the "theory guy". Knowing that some painters prefer to run the other way when confronted with math, Parrish intended the fun session to reduce their apprehension and explain that Munsell is a color ordering system, and that the "hue value/chroma" notation used does not mean that long division is involved! After an introduction to Munsell color theory, how the theory can be applied to painting was explored with subjects such as problems working with pigments, counteracting hue shifts and the three dimensional aspects of color. Parrish mentioned famous works of art that seem somewhat mysterious, like that of William-Adolphe Bouguereau and explained that they're mysterious because most people don't understand hue and chroma. The chips from the Munsell Book of Color can be used to solve those mysteries and produce identical matches. Painting flesh colors can be understood much easier when looked at as a cross section of low chroma yellows and reds.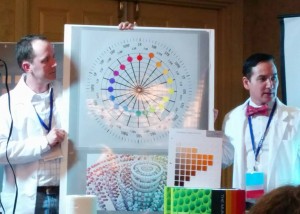 Parrish said they received lots of great feedback and that the presentation helped to dispel some of the confusion and misconceptions about color theory, turning it from what seemed like intimidating science to a useful tool painters can apply to their art. Color theory is clearly useful for representational art, and since colors in nature are predominately low chroma, Munsell color notation helps to understand colors needed in realistic paintings that you can't typically give names to. Despite being known for realism, Parrish also said he has a fantasy about teaching color theory in an abstract painting class, and how exciting the possibilities with color and design can be in abstract works.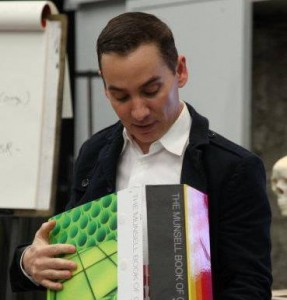 Graydon Parrish is a realist painter living in Austin, Texas and is an instructor at the Grand Central Academy of Art. Graydon is both trained in and an exponent of the atelier method which emphasizes classical painting techniques and has remodeled color theories by Albert Munsell and Josef Albers to fit traditional painting methods. Parrish has lectured at the Clark Art Institute, the University of Hartford, the Austin Museum of Art and the Santa Barbara Museum of Art. His work is displayed in public collections including the New Britain Museum of American Art, the Butler Art Institute and the Blanton Museum of Art as well as the personal collections of Michael Huffington, Christopher Forbes and Carmen Dell'Orefice.