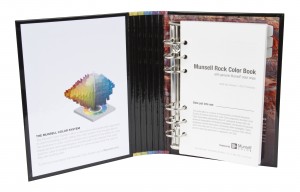 Grand Rapids, MI – January 25th, 2013 – Munsell Color, part of the X-Rite company and the leader in producing physical color standards, today announced its latest new book release, The Munsell Rock Color Book, aimed at helping professionals and artists with identifying colors in Nature.
The new color chart helps archaeologists and geologists communicate with color more effectively by cross referencing ISCC-NBS color names with the unique system of Munsell notations for rock color samples. The Munsell Rock Color Book is a durable, accurate method for classifying and judging rock samples of all types where you need it most… in the field.
"Our new chart is essentially a geological tool that can be used by anyone looking to better communicate with colors, whether in the field or in the art studio," said Art Schmehling, Munsell Color Services Business Manager. "Munsell color books continue to be a standard for the color industry and we are excited that our latest chart introduces another way that Munsell will remain current as the authority on color."
Benefits and Specifics about the Munsell Rock Color Book
This chart is designed primarily for environmental field use, although it indicates the range of rock colors for all purposes.
The pages within this book are cleanable and can be exposed to the standard environmental conditions that are met in the field.
For most rock colors, the chart will serve for both wet and dry specimens.
For more information, contact Art Schmehling, at (616) 803-2703, or email aschmehling@xrite.com.
About Munsell Color
Munsell Color is comprised of the original Munsell Color Company that Albert H. Munsell started nearly a century ago. The company, based in Grand Rapids, Michigan develops and produces physical color standards based on Munsell color theory. The result is a variety of simple yet accurate visual color tools that help professional, artists and others with color more effectively. Munsell is part of X-Rite, the global leader in color science and technology, which also includes design industry color leader, Pantone LLC. Munsell color tools are used across a wide range of industries. For more information, visit www.munsell.com.