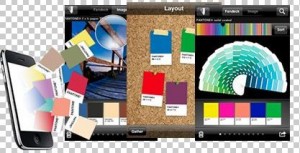 We recently posted a blog on the Best Color Apps and decided to feature the myPantone Color App all by itself, well because… it's just that great. The Pantone app works on just about all smart phones and allows you to view color on the go.  With it you get access to a variety of Pantone color libraries and the ability to build color palettes from pictures and then share them with colleagues and clients. The Pantone App also offers users portable color memory.
Why Choose the Pantone Color App?
Since 1963, Pantone has been an innovative system of matching, communicating and identifying colors in a coherent way. What makes Pantone unique is that its founder Lawrence Herbert understood that each person sees and interprets color differently. His Pantone color finder system incorporates the needs of color critical industries like digital technology, textiles, plastics, architecture and contract interiors and paint. It is known worldwide as the standard language for color communication from designers to manufacturer to retailer to customer.
What Does the Pantone App Do?
The Pantone Color App can extract colors from any image either downloaded or uploaded to your phone. The Color App can create a harmonious palette based on the hues in your image. The App also has a color identifying and color matching feature which can add in other complementary, analogous and triadic color combinations for selected shades, tints and values. Once you've created a palette, share it with friends via email, Facebook or Twitter as an HTML image or an Adobe, QuarkXPress, CorelDraw or Creative Suite file. You can even attach text or voice notes to your color palettes.
How it Works
Once a photo is chosen the Pantone Color App exports color values based on the CMYK color model (that's cyan, magenta, yellow and key or black) to a palette on your phone. The Color App then provides the sRGB, HTML and LAB values on each swatch so you can use it later to cross reference with other palettes you've created or other Pantone color libraries.
Where to Find it
The Pantone Color App is available on iTunes for $9.99. It is compatible with iPhone 3 iPod Touch or higher and can also be used with iPod Touch. Android users can also download it from $7.99 from the Android Market.