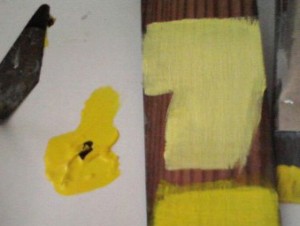 Mary Carroll is an artist living in Southern California who "hasn't yet decided what she wants to be when she grows up." Studying and utilizing Munsell color theory for over a decade, the system is often incorporated into her quilt work and drawings. She has been blogging since 2009 and you can find more of her writing at Mary's Art Musings.
Painting Treated Wood: Toy Around With It!
Painting wood is great fun, most of the time.  However, paint problems arise when the wood is treated, varnished or stained.
Recently The Big Guy asked me to paint the number seven on a toy box he made.  In his exuberance to complete the box he treated the redwood with an excellent wood preservation product. It is not excellent to paint over!  He gave me a piece of scrap with the product on it to practice on. I painted a strip of yellow and left it to dry.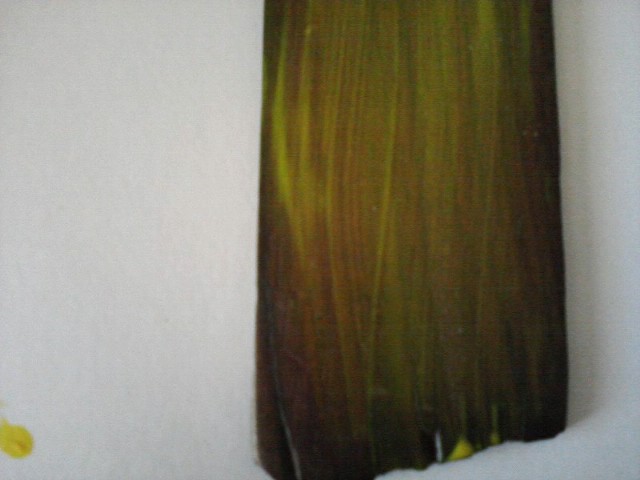 The next morning I found that the paint rubbed off: not a good thing on a child's toy. It was in fact like painting over varnished wood; the paint just wouldn't hold. TBG sanded the product off half the scrap.  I painted it and let it dry. In the morning I found that the paint did not rub off but was transparent. That would have been good on watercolor paper but not on wood.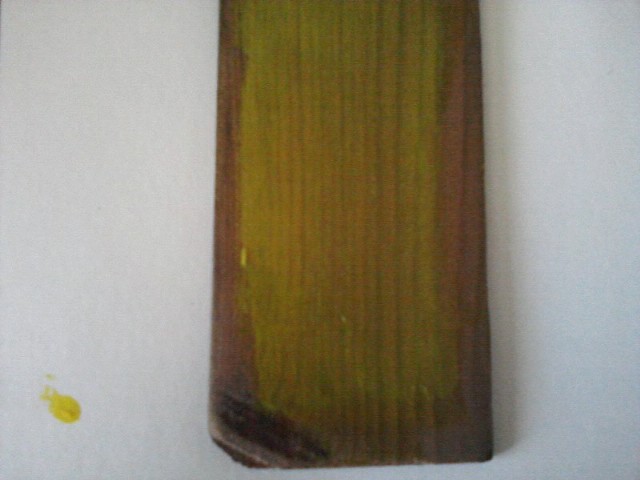 The reverse of the scrap was bare wood. I painted a crude white '7' and let it dry. Again. This was taking longer than making the whole toy box.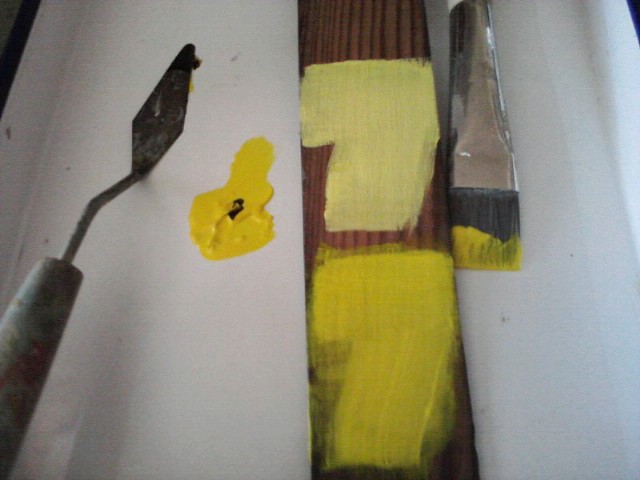 Mixing Paint Colors for Desired Effect
That night the goddess Insomnia and I mulled over the problem. I considered many painting techniques for furniture, seeing if I could determine the best action to take. Earlier, we had concluded that a white undercoat would not give us the dark yellow we desired. Insomnia left me to her sister, Slumber. In the morning gentle Slumber had given me the answer.
There are two ways to darken a color. One is to add black; the other is to add the color's complement. In the Munsell color notation system yellow's complement is blue-purple – a color I did not have. But I have red and blue so could mix it! First I had to make purple with blue and red, then add more blue for blue-purple.
Without consulting Insomnia or Slumber, I pulled out the tiny drop of black needed and slapped it into yellow.

Now, it's a funny thing about black – lots of colors are combined to make it. One never knows until it's mixed what those colors are.  When water coloring I make black by mixing cadmium red and ultramarine blue.  If I mix that with yellow I get puke green.  I mixed the black into yellow…and got puke green! Isn't mixing paint fun?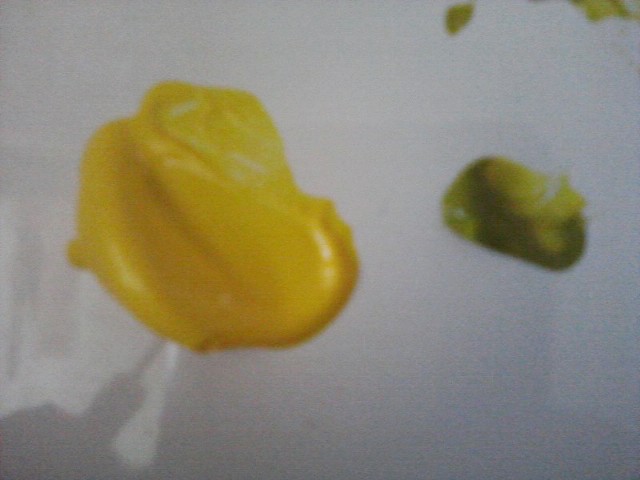 In the next mix I used a bit of the puke green and got the yellow I wanted! When I applied it over the white, it was good!
That was this morning. Early. TBG was off to an appointment so did not see my final result.  I left for some time with The Grandson.
When I got home TBG was excited to show me the RED number seven he had spray painted on the toybox!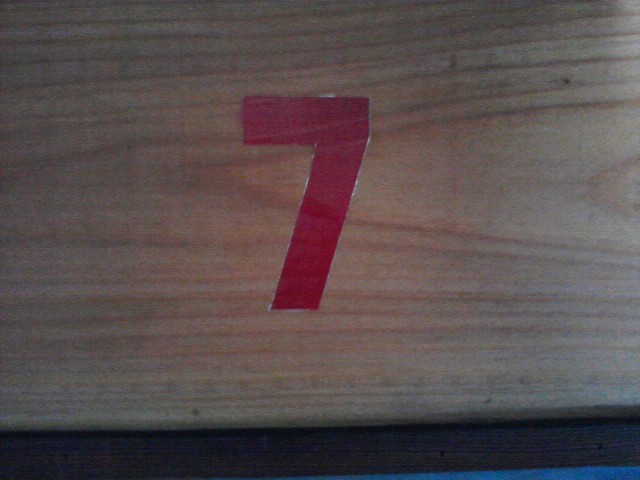 Sharing Your Color Stories
Do you have a colorful story to tell? Are you using color in your work? Just a lover of color? Be sure to share your story with us! We are always interested in the way color is affecting our world.