"Could you be colorblind without even knowing it?" questions the Huffington Post.
The X-Rite Color Challenge is designed to give you an answer. The test consists of four rows of jumbled, colored tiles, each tile slightly different in hue. Your job is to drag each of the tiles so that they're correctly arranged by hue order. Sound simple enough?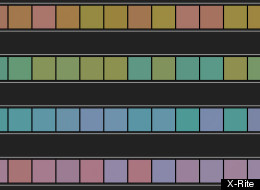 You might be surprised. One out of 255 women has some form of color vision deficiency. On the other hand, just one in 12 men "can't tell the difference between chartreuse and lemonmint. Egads!"
Upon completion of the test, you'll be shown a graph indicating your most troublesome colors, if any. You can even compare your results with others in the same age range and the same gender.
Click here to take the challenge and see for yourself. Huffington Post scored a 12 – what about you?