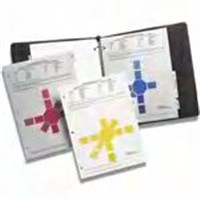 FOR IMMEDIATE RELEASE:
Grand Rapids, MI – April 12th, 2013 – Munsell Color, part of the X-Rite company and the leader in producing physical color standards, today announced its latest new release,
The Munsell Color Coding Chart.
To ensure safety and compliance with electrical standards, Munsell worked with the Electrical Industries Association (EIA) to develop color standards that correlate to the color coding systems for electrical wire and cable, and telecom and fiber optics industries.
Color Chart Provides Reference for Specifying Wire and Cable Colors
Whether you manufacture or specify electrical wires, Munsell wiring color standards help you to ensure lot-to-lot color consistency.  Color coding systems were developed to easily and safely identify wires and cables. However, given the variability of manufacturing processes, a visual color standard was required to ensure that the basic color codes were manufactured within a reasonable visual color tolerance of the exact color.
"Getting the right color in wire, cable, telecom and fiber optics is not only a compliance issue, but also a safety and performance issue," said Art Schmehling, Munsell Color Services Business Manager. "Given the numerous manufacturing variables in the production of electrical wires, which can affect wire color, the color coding chart includes several permissible color variations or "tolerances."
Benefits and Specifics about the Munsell Color Coding Chart
Ten (10), 8-1/2"x 11" color code charts in a binder for the following wire colors: red, orange, brown, yellow, green, blue, violet (purple), white, gray (slate) and black.
Single color code charts, one each for aqua and rose wire color codes.
Supplemental Munsell Color Coding Charts for Telecom Cable and Fiber Optics (EIA –TIA 598-A) Including single color code charts, one each for aqua and rose wire color codes.
For more information, contact Art Schmehling, at (616) 803-2703, or email aschmehling@xrite.com.
About Munsell Color
Munsell Color is comprised of the original Munsell Color Company that Albert H. Munsell started nearly a century ago. The company, based in Grand Rapids, Michigan develops and produces physical color standards based on Munsell color theory. The result is a variety of simple yet accurate visual color tools that help professional, artists and others with color more effectively. Munsell is part of X-Rite, the global leader in color science and technology, which also includes design industry color leader, Pantone LLC. Munsell color tools are used across a wide range of industries. For more information, visit www.munsell.com.
                        # # #