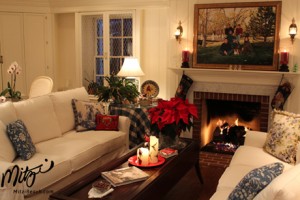 Professional Interior Designer Mitzi Beach writes about creating a warm and welcoming environment for the holidays by carefully integrating Christmas decorations into spaces filled with neutral colors.
Oh, the beauty and serenity of a well-designed, neutral colored room or home. These spaces are so often the perfect balm for our weary souls.
But wait, here comes Christmas decorating time and with it the temptation and decisions of what to display, keep or say goodbye to forever. This can be a design dilemma for sure!
Natural Holiday Decorating
My style is to use natural looking if not natural decorations to achieve a more intimate and authentic holiday space. So for me personally, metal finishes and lots of glitz give off a cold artificial look that again, personally, leave me "cold".
So in using color in a neutral space, here are four simple interior design principles and elements to remember for holiday and Christmas decorating.
1. A little color goes a long way in a neutral space. In order not to nullify the effects of our calculated and selected color, use it sparingly as it will speak very loudly in the quietness of a neutral background.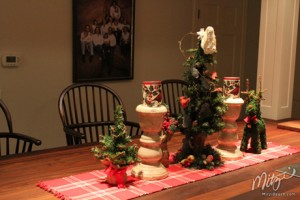 2. Listen for the "sound" of color. Red speaks very loudly when against the soft sounding neutral space and commands you give it attention. Green on the other hand, as the partner to the analogous positioning on the color wheel of Christmas colors, is a saturated color but represents all of nature speaking a healing tone of peace and tranquility. This is the very message of this holiday season.

Always remember to consider how much you want to "hear" your color selections. In order to achieve a more peaceful but festive holiday look, I choose a lot of greens and natural elements mixed with a calculated but stingy amount of the reds.
3. Most neutral color palate spaces are not overdone with "stuff" that is not meaningful. My artist friend, Joey, calls spaces filled with meaningless stuff, "junk on parade." This is why restraint is needed when decorating our very lovely and intimate neutral spaces for Christmas. This way, we won't just keep on adding more and more layers of Christmas decorations. The Christmas spaces that I stop and stare at and respect and appreciate speak authenticity, classic design, scale and proportion. They never, ever overpower with the latest trendy seasonal items from big box stores or chains marketed to the masses of last-minute hurried shoppers.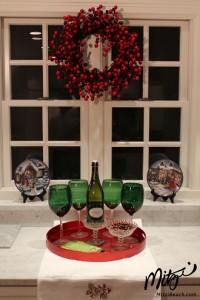 4. Remember too, candlelight has color. It is a very warm golden glow, on of course, the warm side of the color wheel. By using a lot of candles in various colors, shapes, and sizes, even the most elementary of Christmas decorated rooms become aglow with the Christmas spirit!
Spread Holiday Cheer with Color
If you cannot not already deduct from my interior designer perspective, less is definitely more as we decorate our homes for this beautiful time of year. By giving sincere evaluation of what is used (or better yet, not used) to decorate our homes, we will achieve cheerful and peaceful spaces that speak volumes of holiday joy and peace. And isn't that what we all want for all those we love and care about in all our seasons of color?