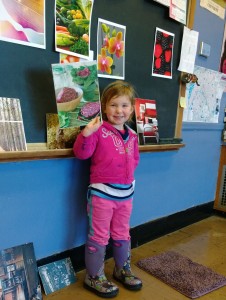 Ask a classroom of middle schoolers what happens when you mix red and green together. They'll roll their eyes and mumble in a monotone "brown". "So what?" their expressions will tell you, "I've known that since elementary school!" Or what happens when you mix magenta and green?  Or can you change architecture with color?
These questions and more were posed at a recent event hosted by the Rhinebeck Science Foundation (RSF) in Rhinebeck, New York. The non-profit organization raises funds to enhance the curriculum for the Rhinebeck Central School System for all students in grades K-12. One of their biggest and most exciting events is their annual fall Discovery Festival.
Discovery Festival 2013 – The Science of Art and Design
RSF asked parents and community members to come up with projects related to art/design and science. Presenter Melissa Cohen, an interior designer and color consultant, and parent, demonstrated Color and Visual Perception using the Munsell Color system and exercises explained in their student course book. Students both young and older were surprised to learn that all colors are not created equally. Using charts and hands-on experience the students were led through a series of experiments where they observed such phenomena as simultaneous contrast, advancing and receding color and discovering their brains will "fill-in" information based on new and past experiences.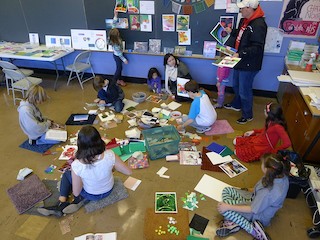 One of the favorite activities of the day was creating a "dream room" where participants using Munsell color chips experimented with making ceilings "float" or making a room appear "airy" or "cozy". A demonstration of color mixing with light was presented on several iPads as well. Students learned there is a difference between color mixing with light and pigments. All materials and color systems whether on a computer or not have a gamut of color, a limit of how many color possibilities there can be.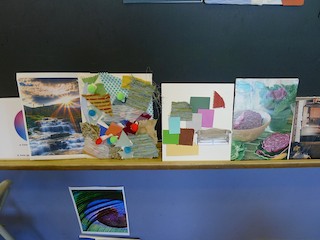 The final exercise was for participants to create their own color boards based on a large selection of mounted photographs of everything from an enlarged image of a daisy to a black and white urban landscape. Using magazine cut outs, paint chips, upholstery fabric and carpet and floor tile samples, each participant interpreted a selected image and created a unique color palette which they displayed for the duration of the event and then were allowed to take home with them.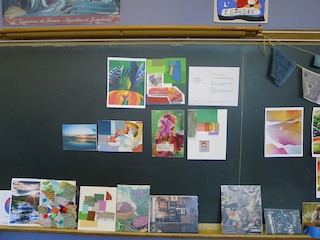 About the Author
Melissa Cohen is the founder of Context, an interior design and color consultation firm in Rhinebeck, NY servicing greater New York City and the Mid-Hudson Valley. She also holds a fine arts degree and has exhibited sculptures and site-specific installations in NYC and Berlin and is in several international art collections.