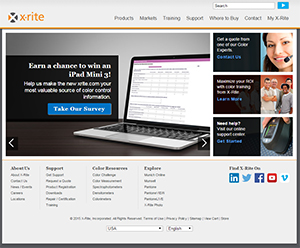 Xrite.com is redesigning their website, and they need your help to make it as fresh and user-friendly as possible! This is your opportunity to offer real input on how you use or learn about X-Rite products, services and information. Now through February 1st, take the user survey and you will be entered for a chance to win an iPad Mini.
The survey is intended to take about 10 minutes. X-Rite is asking questions to understand what content, tools, and functionality are needed to build into the newly-designed xrite.com to make it a much more valuable resource customers.
Here's how it works:
Answer a few brief questions about your experience with the X-Rite website, what you would like to see and how you acquire information about X-Rite products.
Enter your information.
Done! You're automatically entered for a chance to win 1 of 5 iPad Minis. Winners will be drawn on February 6th. Subject to contest rules.