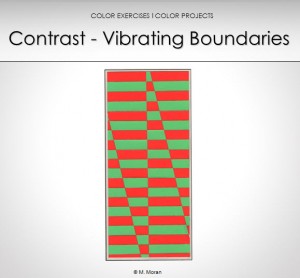 Ryerson University Professor of Color & Design, Alice Chu shares with us her discovery of Munsell Color and how she applies it in her curriculum.  She specializes in color pedagogy and design trend forecast and has been teaching for over 30 years.
Color Fundamentals in Education
I first encountered the Munsell Color System as a graduate student at North Texas State University and Columbia University in New York City. I found the system logical and easy to understand. I could compare the definition of a color to the definition of a cube having three dimensions – length, width and height. In turn each color, according to Munsell, has the three dimensions of hue, value and chroma. Through this system I was able to comprehend and to explain the characteristics of color clearly to any person.
As a trained educator teaching "Fundamentals of Color and Design" to university students majoring in Fashion Design and Communication Design for over two decades, I have always believed that color theory and principles endure. In the context of globalization and cultural diversity there is a critical need to delineate and share principles of basic color and design that are global in scope.
I have had the good fortune of being raised in Asia where I studied in fine art for the first 20 years of my life and then to have spent the subsequent years in the West.  My approach to color tends to be universal, rather more culturally diverse and globally oriented. In terms of visuals I seek to present an East/West perspective that mirrors our current world view.
After years of color education; teaching the theory and application of color, my colleague Jen Nemeth and I have produced a lab/workbook "Color for the Real World" for design students that includes fashion design, communication design, textile design, product design and illustration. This book is based on many years of real life experience with color in the classroom where we primarily use the Munsell System as a teaching tool. It has an expanded written text coordinated with teaching modules created with digital media. The digital format of the modules creates a unique and timely method of assembling and delivering content with all the impact that color can deliver.
The following images are examples of student artwork used in my curriculum to discuss color theory.