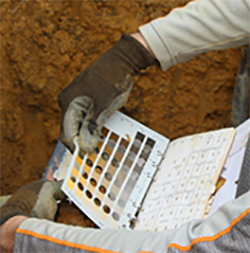 Anyone who regularly uses the Munsell Soil Color Book recognizes that soil type can change drastically across very short distances. In the world of winemaking and grape growing, these soil variations can impact grapevine health and thus, wine quality. 
A major component of my consulting work involves helping wine industry clients define and map management zones in their vineyards. Our goals are simple: (1) Improve wine quality and (2) Save money on long-term vineyard costs. Characterizing subsurface soil variability before planting vines provides the in-depth knowledge winegrowers need to design their vineyards according to the layout of their specific site, bearing in mind its inherent heterogeneity from the start.
Geology & Wine
I am a geologist with a background in groundwater, environmental consulting and geophysics, so my approach to vineyard site characterization is different from the typical agronomist or soil scientist. I run geophysical surveys and then create color contour maps to visualize the site's soil variability before looking under the ground surface.
The geophysical maps alone show spatial variations in soil electrical properties, but understanding the geologic significance is not possible without borehole data.
And this is where Munsell comes in: the Munsell soil color book is part of the arsenal of tools I use to "ground truth" my geophysical maps.
After I run a survey, I dig backhoe pits and auger holes to get a good look at exactly what lies below the ground surface. From my field observations and sample data, I can formulate robust interpretations of the geophysical maps.
The Munsell Soil Color Book helps me identify:
Subtle differences in soil type
Soil horizons
Differences from location-to-location
Mineralogy
Lithology
Redox features
Parent material
Organic matter
I don't go out in the field without my Munsell Soil Color Book, and using it over the years has made me a better geologist. I'm able to make observations in the field, return to the office and refer to the work of others (oftentimes the work of folks who have a lot more experience than I do), and know with confidence whether we're talking about the same soil features.
My geophysical maps alone wouldn't mean much in the context of viticulture, but with the ground truth information that tools like the Munsell Soil Color Book provide, I'm able to help vineyard clients meet their goals to improve wine quality before the first vine is ever planted.
About the Author
Ernest "Bubba" Beasley, MS, CPG
Geologist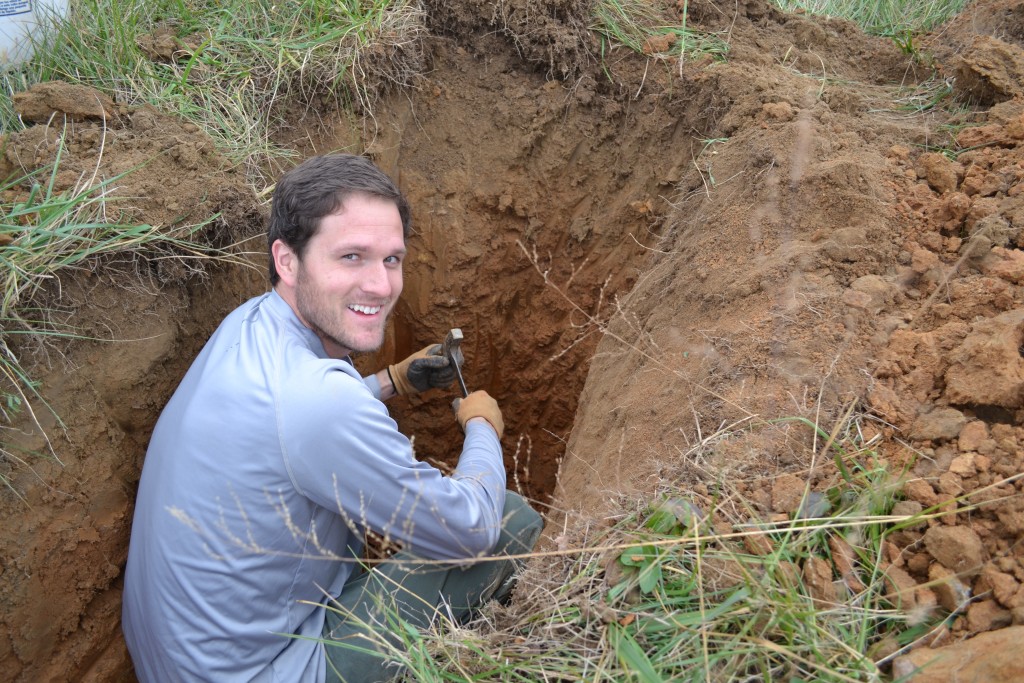 Bubba is a geologist with a professional background in environmental and groundwater consulting. He has led a number of Virginia Wine Board-funded research projects over the past few years, applying various geologic methods to winegrowing. His team's recent studies on the effects of soil potassium on fruit pH in the Mid-Atlantic have sparked changes in industry-wide soil fertilization recommendations, helping to improve wine quality across the region.
Bubba founded HydroGeo Environmental in 2013 to integrate his experiences in geo-consulting and vineyard research. His company offers geologic solutions to vineyard clients in addition to environmental services (Phase I/II ESAs, underground storage tank issues, remediation) and groundwater supply services (high-yield well location, aquifer testing, groundwater availability studies) to a wide range of clients in the real estate, development and industrial sectors.