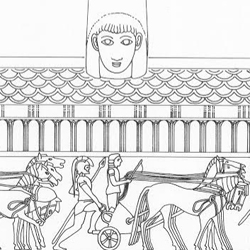 Classical archaeologists studying ancient ceramics and terracotta roofing elements in Greece and Italy have been using the Munsell Soil Color Charts since the early 1970s as a standard point of reference in describing the appearance of clay-based objects and their painted decoration.
Although determination of the closest Munsell color sample involves some subjectivity and can vary according to conditions of light, nonetheless other students of ancient ceramics can easily comprehend the general appearance of the material by consulting their copy of the Munsell Soil Color Charts. Written descriptions are far more subjective and no two people can conceptualize the same color and hue based on words alone. Therefore many archaeologists have chosen a dual system for describing the fabric and painted decoration of ancient ceramic objects, using both word descriptors and Munsell Soil Color Chart readings. No other reference work provides such a wide range of colors and hues that commonly occur in objects from the ancient world and presents it in an easily usable format that withstands the rigors of archaeological field work.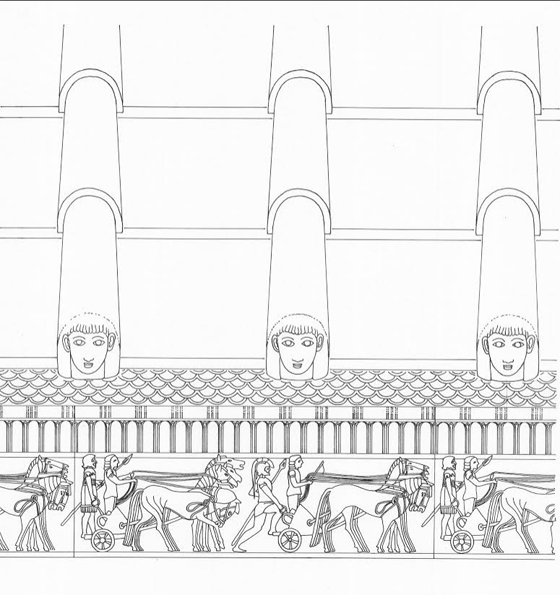 Measuring to Determine Color
For my book on Etruscan terracotta roofs, I studied around 10,000 fragments stored in museums and excavation storerooms throughout Tuscany and in the major museums of Europe and the United States. Often fragments from the same ancient city or even from the same roof were dispersed to different museums. By carefully measuring and recording the details of each fragment, I was able to realize that roof elements in different places originally came from the same roof since they shared identical measurements and material. Vital to this work was use of the Munsell Soil Color Charts, as I was able to verify that the clay and paints of fragments in different museums were of the same colors. For example, parts of one ancient roof from Cerveteri in southern Etruria (see drawing) are now scattered in the museums of Cerveteri, Rome, London, Copenhagen, Paris, Berlin, New York, and Philadelphia. After studying all of these pieces, I was able to do a reconstruction drawing to show what the ancient roof looked like originally, thus bringing together again on paper fragments housed in eight different museum collections.
About the Author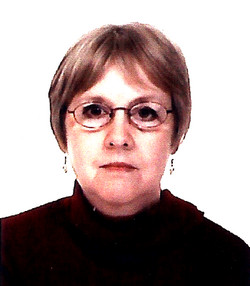 Nancy A. Winter, PhD is a Librarian emerita at the American School of Classical Studies at Athens and a distinguished Senior Researcher in Ancient Mediterranean Studies at the University of California, Santa Barbara. Her life-long study of ancient terracotta roofs in Greece and Italy has resulted in two books including, Symbols of Wealth and Power: Architectural Terracotta Decoration in Etruria and Central Italy, 640-510 B.C. (Supplement to the Memoirs of the American Academy in Rome 9), Ann Arbor: University of Michigan Press 2009.