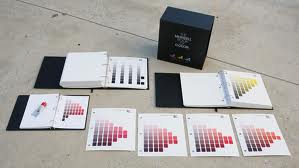 November 14th, 2012 – Grand Rapids, Mich. – Munsell Color, part of the X-Rite company and the leader in producing physical color standards, announced that its Munsell Book of Color has been noted as the preferred color determination method of a new breed of lettuce for which a United States patent application was recently filed by the scientist Johan van Zee.
Munsell Used to Broaden the Color for a New Variety of Lettuce
The plant color in this new breed of lettuce, named NUN 09055, is a deep red, making it an attractive addition to various food items found in restaurants and homes.  The plant patent application suggests using the Munsell Book of Color to properly identify the color in mature plants. "The "red color" of a plant in accordance with the present invention can be determined by comparing the color of, e.g., fourth or mature leaves with fourth or mature leaves of another plant such as a MULTIRED 4 plant grown under the same conditions. The skilled person can, e.g., use a RHS colour chart: 2007 as described herein."
Munsell: Helping to Match Distinct Plant Color
Regarding the plant color determination, the application states, "The morphological and/or physiological characteristics may vary with variation in the environment (such as temperature, light intensity, day length, humidity, soil, fertilizer use), which is why a comparison under the same environmental conditions is preferred. Colors can best be measured against The Munsell Book of Color.
The need for a new breed of lettuce is explained in the application. "Lifestyles change and the demand from restaurants and catering firms for colorful and interesting garnish for sandwiches and ready-to-use processed salads continue to rise. As a result, there is a demand for breeding companies to develop new varieties with specific shapes of leaves, specific average size of leaves, prominent color and a wide variety of texture, as well as good yield."
"This is another example of the Munsell Book of Color's practical use in the field of agriculture and plant development", said Art Schmehling, Munsell Color Services Business Manager. "We strive to provide the most accurate, detailed color matching system in the world.  When scientists use our Munsell Color Books in their research, it give us a sense of pride to know Munsell Color has that kind of reliability."
About Munsell Color
Munsell Color is comprised of the original Munsell Color Company that Albert H. Munsell started nearly a century ago. The company, based in Grand Rapids, Mich., develops and produces physical color standards based on Munsell color theory. The result is a variety of simple yet accurate visual color tools that help artists, educators, scientists, and manufacturers and their supply chains work with color more effectively. Munsell is part of X-Rite, the global leader in color science and technology, which also includes design industry color leader, Pantone LLC. Munsell color tools are used across a wide range of industries. For more information, visit www.munsell.com.