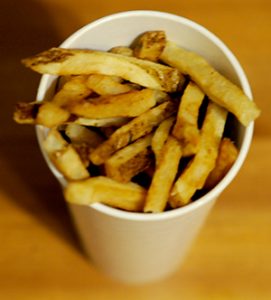 No matter what you call them, be it french fries, frites, chips, deep fried potatoes, or what size or shape they come in, from shoestring to thick-cut, waffle to crinkle style, no one can deny that fries have become a food favorite across the world. There is even a National French Fry Day to help celebrate.
The origin of the fry is still up for debate. Belgians called them "Les frites", while the French called them "Pomme Frites", or fried potatoes. In America, French fries became the popular term. Back in the day, the frites were often fried in ox or horse fat, while today, you more typically see vegetable or peanut oil used.
While our modern fries make a great partner to a salad or sandwich, the French fries themselves have their own complementary relationships. Fries are almost always accompanied by one or more condiments to be dunked or smothered in.
Making the Perfect French Fries
The first US standards for frozen french fried potatoes was released on April 22, 1966 and made effective July 1, 1966. It served as a means for grading and inspection to ensure food quality. Fry color was indicated by a designation of extra light, light, medium light, medium, or dark. And thus was born the Munsell USDA French Fry Color Chart.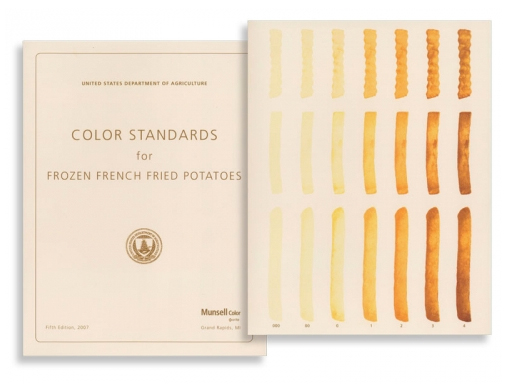 Used for programming deep fryers to certify a proper balance of temperature, fat content, and duration of frying is executed. No more soggy, undercooked or burnt to a crisp, bitter tasting ill-prepared french fries.
The Colorful Shades of Condiments
Now that we have french fries cooked to perfection, it seems fitting to take our color notations a step further… to the ketchups, the mustards, the gravies, the cheeses – and other condiments that enhance the fries experience. When it comes to french fry condiments, everyone likes something different. From combos of mixed or double dunked flavors, to more traditional accompaniments… nothing is really typical when choosing go-to dipping sides.
Ketchup 10R 3/10
Certainly one of the most popular of all the french fry dipping option, ketchup is sweet and tangy and color-wise, reflective of the tomatoes that make up the majority of it's ingredients.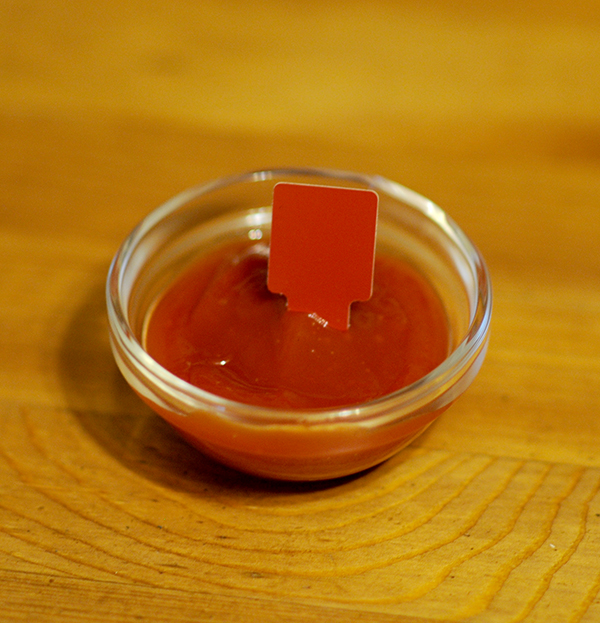 Aioli 5Y 9/2
A typical aioli is garlic whisked with egg yolk and olive oil, but there are many variations where herbs or spices are added.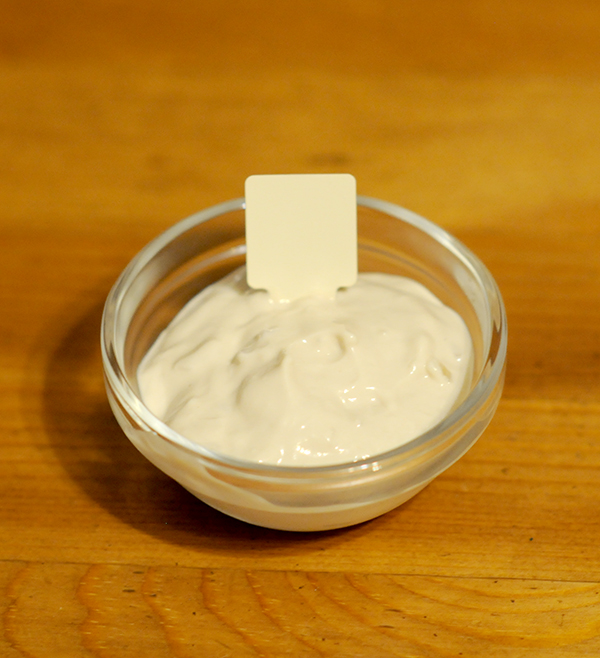 Curry Red 10R 3/8 & Green 2.5Y 4/6
When you need a little spice to go along with your fries, curry never disappoint. Here we have a red and green curry gravy – heavy on the spice.
Cheese 10YR 7/14
The options are plenty for cheese dipping sauces, as well as crumbled or drizzled on toppings. We stuck with a traditional yellow-red cheddar sauce. Orange cheese please.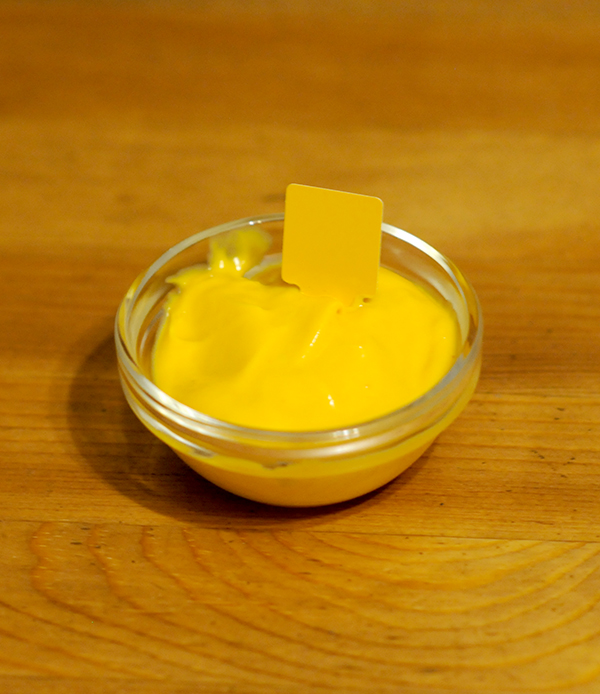 Hot Sauce 10R 3/8 & 2.5Y 8.5/4
From milder pepper sauces to intensely hot ghost pepper sauces, bringing the heat to a pile of fries is a treat for many. Here we have a traditional chilli pepper sauce.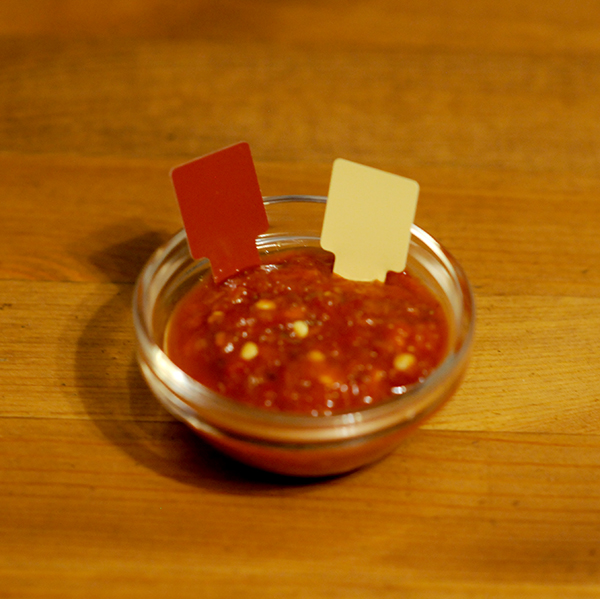 Mustard 2.5Y 7/6 & 2.5YR 3/6
With so many mustard choices available, it was hard to settle on one. A more traditional yellow mustard would fall somewhere around 5Y 8/10, while honey mustard around 2.5Y 8/8. For our selection here, we went with a stoneground mustard, because clearly, it contains more than one color. Here we look at the color of the mustard itself and the mustard seeds.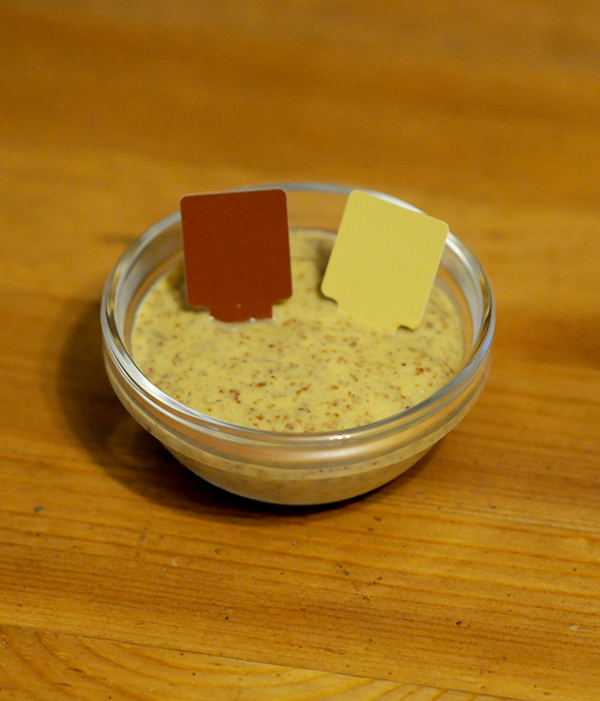 Tzatziki 5GY 9/1 & 5GY 3/2
A mix of yogurt, cucumbers, garlic and olive oil, it is a popular Mediterranean dip or condiment for meats or pita and equally as good for fries.

Ranch 5Y 9/1
A dairy based dressing made popular at a dude ranch in California in the 50's, it is still the best selling salad dressing in the US. It is also a popular dipping sauce.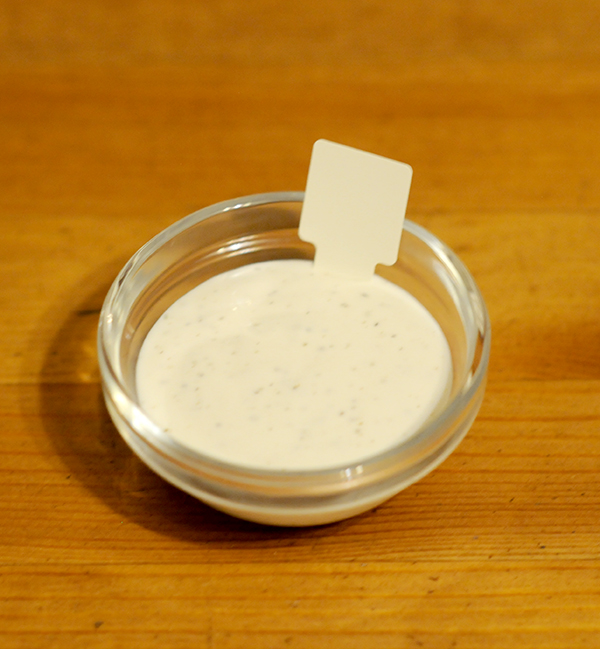 BBQ 7.5R 2/6
Kansas City, Carolina, Texas, Alabama, Kentucky – with such variety of BBQ sauces to choose from, we could be dipping fries all day.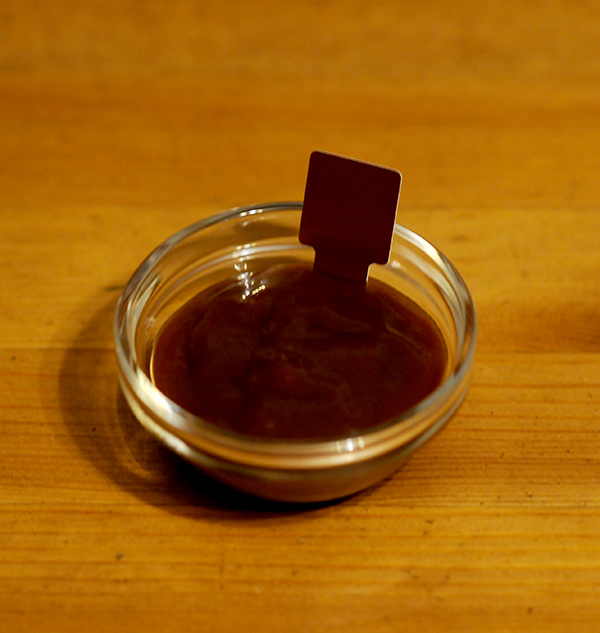 Gravy 2.5YR 2/4
This dark brown gravy is beef based. Make sure your fries are nice and crispy before smothering them with this.
Poutine, a popular Canadian dish, is a combo of cheese curds (yellow or orange in color depending on the variety) and gravy – usually a light brown chicken, veal or turkey variety.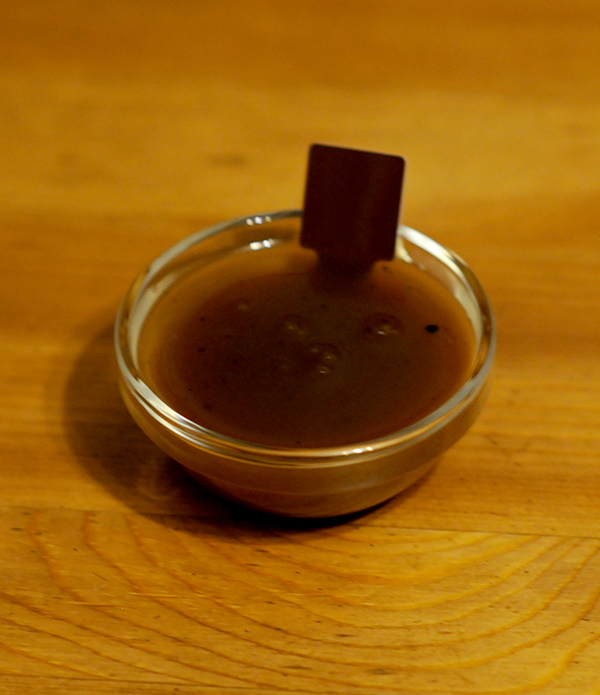 Malt Vinegar 10R 3/6
Very popular for fish and chips, it adds a toasty, nutty flavor to the fries.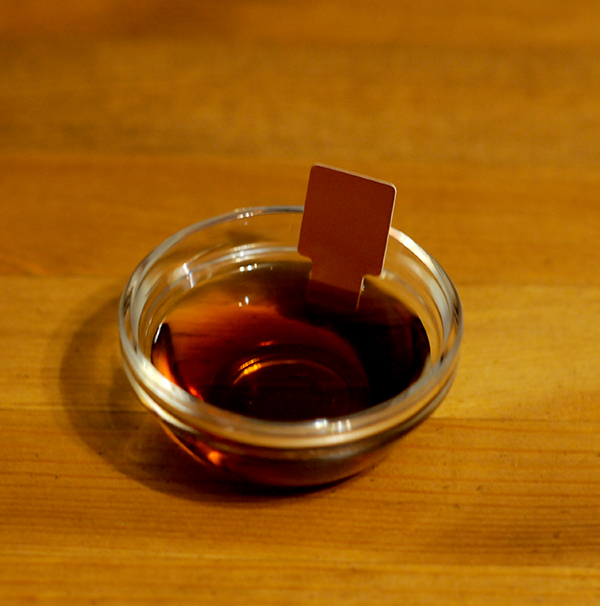 Mayo 2.5YR 7/4
Some like mayo alone 5Y 9/2, some like it mixed with ketchup. Sometimes called fry sauce, this combo comes in a variety of ratios (this Russian dressing or Thousand Island). Here we have a 3/4 mayo to 1/4 ketchup ratio.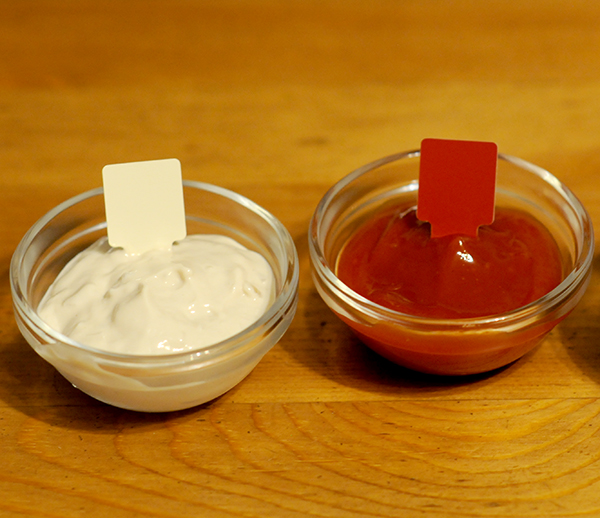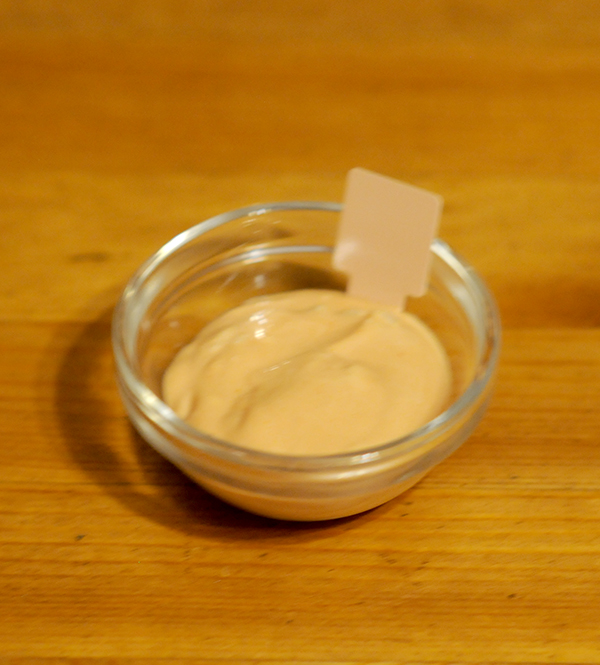 The Smorgasbord
What happens when all of these get mixed together? What color would we get? We don't recommend actually doing this but since we had leftovers of all the ingredients, we though, why not.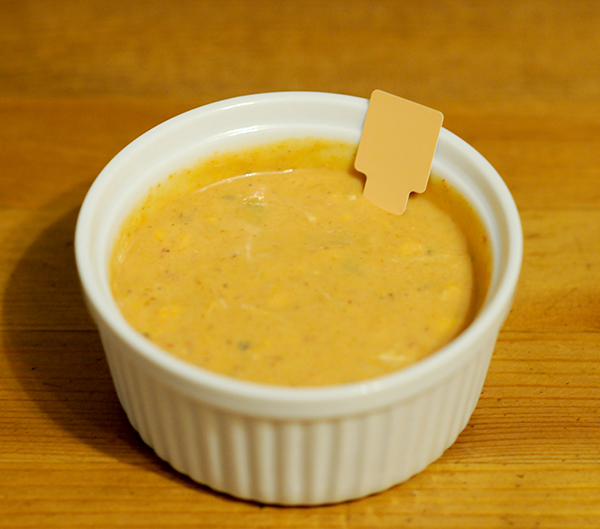 Anything Goes
When it comes to accompanying french fries, almost anything you can think of can be added. From chilli or refried beans to an egg. If you decide to pile on some bacon, make sure it is cooked to your liking. We hope your french fry dining experiences will never again be the same again.
Happy National French Fry Day!
Note: There are a plethora of condiments available on the market. Colors will vary from brand-to-brand, so the color notations listed in this post are merely a sample. Test your color matching skills and see what color notations you find in your kitchen.