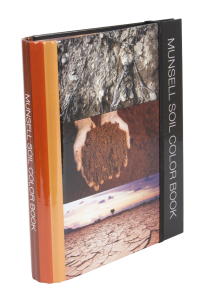 Grand Rapids, MI – February 15th, 2013 – Munsell Color, part of the X-Rite company and the leader in producing physical color standards, today announced its latest new book release, The Munsell Soil Color Book. The book is organized to make it faster and easier to identify and communicate the color of soil in the field.
A Tool for Identifying Soil Samples and Color for Exact Matches
For archeological applications, the Munsell Soil Color Book helps archeologists classify artifacts based on the color of soil found nearby. The soil classification system has been developed around the Munsell Color System as an established and accepted process to assign a soil type. The Munsell Soil Color Book is a durable, accurate method for classifying and judging soil samples of all types where you need it most… in the field.
"Our new chart is essentially a geological tool that can be used by anyone looking to better communicate with colors, whether in the field or in the art studio," said Art Schmehling, Munsell Color Services Business Manager. "Through the use of our new Soil Color Charts, practitioners from far and wide can share consistent information about soil color anywhere around the world."
The Benefits of the Munsell Soil Color book
The Munsell Soil Color Book is used to provide consistent and reliable classification of soils based on color so the information can be recorded and communicated clearly
Designed as a portable and durable guide to the Munsell Color System that lets people match, specify or design soil color anywhere.
The Munsell Soil Color Charts are used by a variety of industries and professions such as universities and high schools, forestry, forensics, environmental and soil science, building and contracting, landscaping, real estate, health departments, geology and archaeology.
For more information, contact Art Schmehling, at (616) 803-2703, or email aschmehling@xrite.com.
About Munsell Color
Munsell Color is comprised of the original Munsell Color Company that Albert H. Munsell started nearly a century ago. The company, based in Grand Rapids, Michigan develops and produces physical color standards based on Munsell color theory. The result is a variety of simple yet accurate visual color tools that help professional, artists and others with color more effectively. Munsell is part of X-Rite, the global leader in color science and technology, which also includes design industry color leader, Pantone LLC. Munsell color tools are used across a wide range of industries. For more information, visit www.munsell.com.