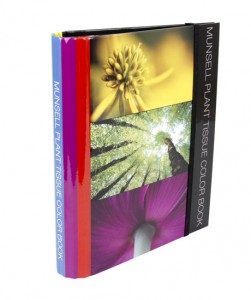 Grand Rapids, MI – February 1st, 2013 – Munsell Color, part of the X-Rite company and the leader in producing physical color standards, today announced its latest new book release, The Munsell Plant Tissue Color Book, a handy plant color reference for analyzing plant tissue color.
Plant Color Chart Provides Reference for Analyzing Plant Tissue Color
For any botanist or scientist, the 17 plant color charts offer a fast, convenient method for identifying and communicating the color of plant tissue by cross referencing ISCC-NBS color names with the unique system of Munsell notations for plant tissue samples. The Munsell Plant Tissue Color Book provides scientists, students, and plant growers with information needed to respond to problems related to taxonomy, genetics, physiology, pathology, and plant nutrition.
"Our newest chart provides a wide range of professionals the ability to share reliable and consistent information about the color of plants at a specific site with their colleagues anywhere around the world," said Art Schmehling, Munsell Color Services Business Manager. "Munsell color books continue to be a standard for the color industry and we are excited that our latest chart introduces another way that Munsell will remain current as the authority on color."
Benefits and Specifics about the Munsell Plant Tissue Color Book
The Munsell Plant Tissue Color Book is an affordable way to evaluate the type of vegetation that is present within a given area
This book is set up to allow users to make plant color evaluations in the field quickly and easily
The plant classification system has been developed around the Munsell Color System, which has been used in the United States for more than 55 years
For more information, contact Art Schmehling, at (616) 803-2703, or email aschmehling@xrite.com.
About Munsell Color
Munsell Color is comprised of the original Munsell Color Company that Albert H. Munsell started nearly a century ago. The company, based in Grand Rapids, Michigan develops and produces physical color standards based on Munsell color theory. The result is a variety of simple yet accurate visual color tools that help professional, artists and others with color more effectively. Munsell is part of X-Rite, the global leader in color science and technology, which also includes design industry color leader, Pantone LLC. Munsell color tools are used across a wide range of industries. For more information, visit www.munsell.com.