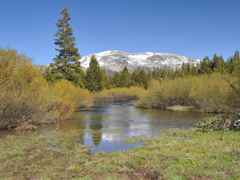 Wetland Scientist, Daniel Evans, shares his recent experience using the Munsell Soil Color Charts in the field.
As an ecologist, the Munsell Soil Color Charts are an indispensable field tool that I typically use when analyzing the differences between wetland and upland soils. For a recent project though, I put the charts to a non-conventional use with great success.  I was contracted to supervise the restoration of a high mountain meadow that had been contaminated by diesel fuel leaking for weeks from a 24/7 generator powering a cell phone tower.   The agency stipulating the requirements for environmental clean-up required that remaining soils would require less than 10,000 ppm of diesel fuel for the soil removal efforts to be approved.  Rather than taking soil samples willy nilly throughout the extensive area of contamination, an act of quick thinking with my Munsell Soil Color Charts allowed me find a way to focus my sampling and shrink my work.
Soil Analysis Techniques:  In the Field with the Munsell Soil Color Book
I started by sampling the baseline soil color in the pristine meadow and comparing it with the contaminated soils that were in the main flow path of the diesel spill.  In between these locations I colored three additional value changes, which reflected the decreasing quantity of fuel absorbed into the soil with distance from the flow path.  Although all soil sections, except the pristine meadow, reeked of diesel, site soils keyed at 10YR 4/3 contained actively growing roots despite complete loss of vegetation above ground.  Confirmation samples sent to a testing laboratory indicated that all soils keyed at this color met the agency requirements…and from there the job of removal, remediation, and revegetation began.
Daniel Evans, Wetland Scientist, Tetra Tech EC Biography
Mr. Evans is currently the project manager of a uranium mine closure in Eastern Washington. He is also the group leader of the Environmental Engineering Group of the TetraTech Fort Collins office. Mr. Evans has a background in hydrology and hydraulics both in urban and rural settings. He has been the project manager overseeing design and construction of several municipal stormwater projects and has also been the project manager of several river restoration projects and mine reclamation projects.