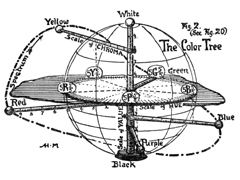 Early work in color space theory
Albert H. Munsell had a passion and penchant for color and color communications early on in his career as an artist and later as a teacher. 
After graduating from the Massachusetts Normal Art School (today's Massachusetts College of Art and Design or "MassArt") in 1881, Munsell was hired by the institution as an instructor and later appointed lecturer in Color Composition and Artistic Anatomy. During his 25-year tenure with the school, Munsell applied his color theories to develop color education teaching tools such as the patented Color-Sphere and Mount—the predecessor to today's Munsell Color Tree.  Munsell used the color sphere to organize color in a logical fashion for teaching purposes.  Munsell says it in his own words in the 1900 Patent No. 640,792, "The object of my invention is to provide a spherical color-chart for educational purposes. It is necessary or desirable in the study of colors to the best advantage to be able to present a sequence of colors as they exist in nature and to present to the eye an orderly arrangement of colors in a great variety of sequences."
Munsell's early work in color theory, culminated in his book A Color Notation (1905) and two years later his Atlas of the Color Solid, which was the predecessor to today's Munsell Books of Color. Munsell didn't develop his groundbreaking work in a vacuum.  Instead, he conferred with academics in the physical and psychological sciences, and later in his career was invited to present his color order work at conferences throughout Europe.
The consummate color educator and perpetual student of color, Albert H. Munsell's legacy lives on at the Rochester Institute of Technology's (RIT's) Munsell Color Science Laboratory.  Today, the Munsell Color System can be taught or learned using a series of Munsell Color Education Products produced by the X-Rite Company.  Perhaps Munsell said it best in his book, A Color Notation:
"The teacher's skill is shown in searching out the simplest and most easily grasped facts; in finding not only an 'easy door' but the 'right door'; in leading the children through the maze of color by steps so clearly understood and remembered that he will safely find his way along and not become confused."
He goes on to add:
"Let us concentrate public education upon a simple and definite training of the eye, so that it may be quick to recognize, define, imitate and memorize the colors in daily use."
References:
The National Cyclopaedia of American Biography Volume XII, James T. White & Company, New York, 1904, pg. 316.
A Practical Description of The Munsell Color System with Suggestions for Its Use, T.M. Cleland, Munsell Color Company, 1937, Baltimore, Md.
A Color Notation, A. H. Munsell, Munsell Color Company, Inc., 1971, pg. 45.