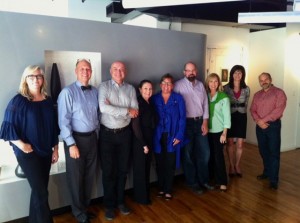 On Friday September 27th, 2013, I had the pleasure to participate in the Mix North American trend panel.  It is always my humble pleasure to be able to participate on a panel like this one. The panel is comprised of an inspirational group of color experts that looks at where colors are heading in the future.
One of the key topics in this year's Mix Trends event was how trend colors are impacting the tech industry. Color usage has changed over time and the goal is in understanding how to develop processes that can keep up with those changes. Color branding has become an essential component to product design because the packaging is what the customer is going to notice first. The yin and yang of color is that individuals have certain color preferences but those color preferences can change over time. An individual might relate or react to a color or collection of colors at any given moment in time. Color becomes an experiential process which in turn brings associated meaning to certain colors.
Everyone is familiar with the effect that colors have on brand recognition. Color combinations can transform an object and effect an individual's perception of that product. Color also has the natural ability to relate to all demographics and cultures; it can become a universal language. This is what makes it so interesting to work with.
What came out of the panel discussions at Mix is how our everyday lives, events and aspirations affect the colors that we surround ourselves with. Color allow us to express what we like and who we are. It gives us one more tool to make a statement to those around us about our values, feelings and desires.
So while I would love to spill the beans on everything we did, you will have to wait and see what appears in the Mix in the coming months. Stay tuned…