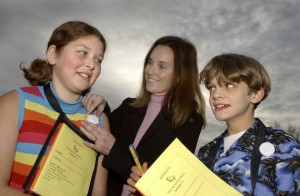 Almost 10 years ago, I was the primary supervisor of a PhD student (now Dr Caradee Wright at the CSIR in Pretoria, South Africa) who was researching skin cancer primary prevention opportunities in primary schools. 
Over a 6 month period, 2004-2005, Dr Wright and her fieldwork assistant, Vanessa Hammond (now Dr Hammond), travelled around New Zealand, visiting 27 participating schools in 5 geographic regions.
As part of broader research, one aim was to assess the skin colour of the 477 primary school students in the study. Because the charity grant funding from the CSNZ for the project was limited, we searched for an economical, readily portable method of assessing skin colour among New Zealand primary school children. That it should appear non-threatening was also a factor for consideration.
We decided to use the Munsell Soil Color Charts, Year 2000 washable edition for this fieldwork because it looked like a plausible method that met our criteria. Furthermore, the introduction to the Munsell manual mentioned that it was suitable for use in measuring skin color.
When we came to publish the study findings, however, we were hampered by the lack of scientific research about the validity and reliability of the Munsell system for assessing human skin color. So, the original paper was put on hold until we had time to carry out such a study. Now that the findings of our validity and reliability study have been published this year and provide evidence to suggest that the Munsell color charts are a valid and reliable measure, we aim to seek publication of the school student skin color findings. We have found the Munsell manual very useful for this sort of work.* 
Featured Photo Caption: The little white objects that the students are wearing are electronic dosimeters for measuring real-time exposure to erythemal solar ultraviolet radiation. Copyright Photo, Otago Daily Times, Dunedin, New Zealand.
About the Authors

Dr Tony Reeder is an Associate Professor at the University of Otago and Co-Director of the Cancer Society Social and Behavioural Research Unit. He specializes in Skin cancer prevention; health promotion and cancer prevention.

Dr Caradee Wright is a Principle Researcher with the Environmental Health Research Group at CSIR. She specializes in human exposure to environmental risks with a focus on air pollution and solar ultraviolet radiation.
* Please note that the authors of this post and any person or place associated with the study are not affiliated with Munsell.