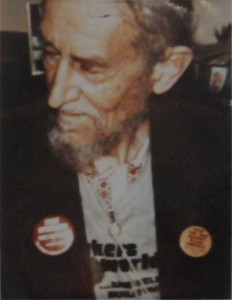 In a previous post we learned about Alexander Ector Orr Munsell from color scientist and technologist Dorothy Nickerson and the role he played in ensuring the expansion of the Munsell Color system.
A letter he wrote late in life reveals more about his continued connection with the color world. The first letter is dated 21 April 1976 and includes his home address at the time, Apt. B, 324 w. 20 st.  N. Y. 10011 (which has its own history).
The letter was in response to a request to attend a fundraising banquet. Below are excerpts from that letter.
Dear color-friends,-
Just 5 days before our ISCC convention (in my 81st year) my heart is very full of appreciation for all that all of my color-friends have done for me.
Why have we all been so devoted to advancing the science and practice of colorimetry?
Why did the tax-payers of Massachusetts send my father to study art in Paris?
Perhaps because of his then-evident artistic potential, and also perhaps because, upon the deaths of his father and brother, he had self-reliantly and loyally helped to support his mother.

Why did his professor in the Julian Academy of Art in Paris, request the taxpayers of Massachusetts to extend his generous scholarship for a 2nd year so that he could win the right to attend D'ecole des Beaux Arts in Paris?
Why did the French taxpayers send my Father to Rome for a further year of art study, following his winning 2nd prize in the competition for the same?
And then why did my Father faithfully serve the Massachusetts Normal Art School for the rest of his life? (The school that sent him to Paris and the school that graduated one of his pupils, Royal b. Farnum, later the director of the Rhode Island School of Design, and a powerful influence in the wider application of the Munsell color system in education.)
My father had a strong sense of social responsibility as attested to by the support he received from pioneers like Edward Filene and Arthur S. Allen.
Why did the scientists in London, Paris, Berlin and Grottingen, Holland invite my father, on the eve of World War I to share with them his development of the Munsell color system?
Why did he expend his energies so generously on this trip that thru over-work he contracted pneumonia which made him an invalid for the rest of his life?
…
Why did Arthur S. Allen vehemently urge me to leave Medical School and join in the restandardization of my father's color charts?
Why did my mother, my sisters and myself make possible the Munsell Research Laboratory- recalibrated Munsell Book of Color, with the cooperation of the U.S. Bureau of Standards?
Why did F.G. Cooper, Charles Bittenger and many, many others, reflect the pioneer spirit of Irwin G. Priest in founding the ISCC?
Why, during World War II, was the Munsell color system made ½ of the National Color Standard, leading to the founding of the Munsell Color Foundation, Inc.?
…
P.S. I grew up and did my color research work in the alice-in-wonderland atmosphere… applying the pioneer scientific principles of color research as taught to me by lrwin G. Priest, Deane B. Judd, I.H. Godlove, Dorothy Nickerson and many others.
…
To come down to "brass tacks": I am attending today Color Problem 33. Tomorrow (1 -27-76) I shall be on hand at 6 P.M. to be with you all but I do NOT plan to attend our stirring and varied banquet. Why?
…
Really I have little personally at my present stage of social development to offer to the banquet, because I am more concerned with the common weal than with the modest or ostentatious display of individual creativity there. I cherish human relationships, but no such relationships can grow when I might be a "thorn-in the flesh", causing discomfort in myself and in others. So this is why I cannot be with you all.
…
What I might seek in personal contacts with many color-friends could better take place in a less formal and formidable setting.
…
He ends his letters with:
So, with every good wish
Warmly and scientifically,