Jewelry Designer, Sueanne Shirzay took a break from her colorful creations to talk to us about her process and what she has discovered along the way.
When did you first discover that you wanted to be a jewelry designer?
Becoming a jewelry designer was really just a happy accident. Trust me, I was never a crafty person. No scrapbooking, terrible with pictures. Can't sew, can't knit. I've always enjoyed oil painting and drawing though. In 2008 I got roped into taking a jewelry making class with friends. Me! The non-crafty one. I was hooked within minutes and literally sold the first thing I made off my neck in a couple of days at the school bus stop to another Mom who asked me where I bought my necklace. So I made her a copy. I had that light bulb moment that quickly. I opened my online shop on Etsy within 6 months. I was formerly an art director for magazines and newspapers and had an art gallery for a short time. Once I visited my first bead store and bought supplies, I just couldn't stop. I had so many ideas. They needed to get made.
How would you describe your designs?
I design colorful jewelry for colorful women. Fun women deserve fun jewelry. The prices range from $22 to $300. My necklaces, earrings and bracelets go from soft toned-down color combinations to *POW! Look at me!* brights. I'll admit, I have a thing for greens and blues, but don't limit myself to just those colors. Using delicate and feminine metal findings in sterling, gold and vermeil as well as copper with my designs, as well as geometric metal has been fun for me.  As far as cuts of stones I lean toward using faceted gemstone briolettes in heart, cushion, pear and teardrop cuts but I do have some smooth stones as well as a few specialized beads like incredibly detailed handmade lampwork and Czech glass with Picasso finishes.
What are you favorite materials to work with?
I have to choose? Oh Dear. All of them?
Okay. It all starts with the stones. The color, look and feel of the stones. Tourmaline, Chalcedony, quartzes in a vast rainbow of colors, lapis, amazonite, emeralds, citrines, peridot, amethysts… you get the picture. It's the stones I love. The colors draw me in.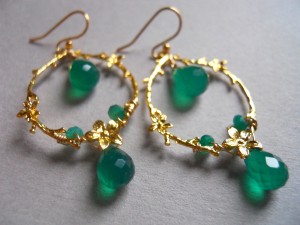 How important is color to your design process?
Color is everything to my design process. I was told as a child that I'm a natural colorist. I just feel it. I feel the color. I know I am more sensitive to it than other people. It's a part of who I am.
Unlike many designers, I never sketch designs. I just stare at the stones for a while on my desk. Put them with other stones. Mix it up. Add. Subtract. Although I do have ample storage and organization for supplies, my design desk is usually a complete and total disaster. I've given up trying to understand why my brain works like this. My design process just thrives on colorful messy bead chaos.
How did your knowledge of color theory change the way you think about design?
I did have professional color theory training in high school and when I attended Pratt Institute. We learned by drawing and painting and using books of colors. We mixed, we matched… it was awesome.
One teacher told us there is no such thing as an ugly color. He was right! Even a color we aren't crazy about can be MADE beautiful by combining it with a beautiful color that complements it.
I know how to make one color pop by pairing it with another and how to make more subtle pairings as well. I love matching jewelry with eye color because there are so many colors in an iris.  Certain metals look best with certain stones and that's another way I use color theory in my designs.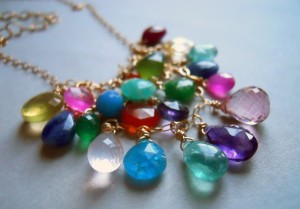 Who or what is your biggest inspiration?
My mother, Nancy Sannella, is one of my biggest inspirations. She has been an avid jewelry collector all her life and now she gets to collect her own daughter's. I love surprising her with gifts. She is a very creative woman, expert seamstress, knitter and embroidery artist and taught me many things about color and style before I ever had an art class. I also am inspired by many artisan jewelry designers and even some fine jewelry designers.
What is the biggest risk you ever took with a design?
I don't feel like I take risks with my designs. I grew up in an environment that was very encouraging to my creativity and it was always accepted that I'd be some kind of artist or in a creative field. I wish more kids were given that opportunity. I don't love everything I do, in fact I'm probably too hard on myself. I think of each piece as a learning process. Some of the names I give my pieces are pretty ridiculous. I guess that would be considered risky! : ) That's how I keep track of them. As I have designed over 800 pieces it's a nice way to memorize.
What are you working on now?  Any new designs you can hint at?
I am starting to work on more complex designs now to challenge myself and add texture to my pieces. I can't tell you how exactly. It's a secret. There is no end to things I want to learn how to make. The surface has barely been scratched. I'm always studying other artists and shopping for new stones and materials. I've been at this less than five years so it's very exciting to watch the online shop take off in the last couple of years. The men and women who shop with me are incredibly supportive. I get some of my best ideas from my customers and always encourage them to bring out their inner designer if they have an idea for a custom piece. We should all be having fun, not just me.