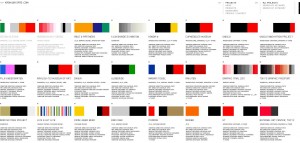 There are colorful websites, websites about color and especially cool websites that are both about color and use color in new intriguing ways.  With a mouse in hand, the internet at our fingertips and a whole color wheel to choose from; it's easy to get lost for hours. We have picked some favorites that have inspired or moved us in some way and now will share them with you.
A Creative Director and a Color Website that Moves
Kashiwa Sato established the "SAMURAI" creative studio in 2000 after working for Hakuhodo Inc., Japan's second largest advertising agency.  The Samurai website opens to color palettes that are literally full of movement. Warning: if you get at all motion sickness, you might want to skip the home page into as the index is very dynamic. The color palettes move about in different proportions. Click on through and the separate designs are presented with their colors in greater detail.
A Colorful Website Ties in Fashion + Décor
At Fashion Décor, Gretchen Aubuchon created a concept that she calls "StylePairs." From her starting point of interior design, she mapped interiors she loved with fashion on the runways as inspiration for her to better style herself!
"The worlds of fashion design and interior design are inextricably linked, and trends make their way through both. Studying the connections between fashion and decor helps you develop an overall sense of style that's both unique and coherent."
We like the way she keys on a main tone that is constant between the two and then uses that pure color to link them. Sometimes it's subtle, and sometimes it's so dead on that one wonders if the interior and fashion designers are one in the same. As an added bit of congruency; when you click on an inspirational design, the whole theme of the page reflects the main color choice.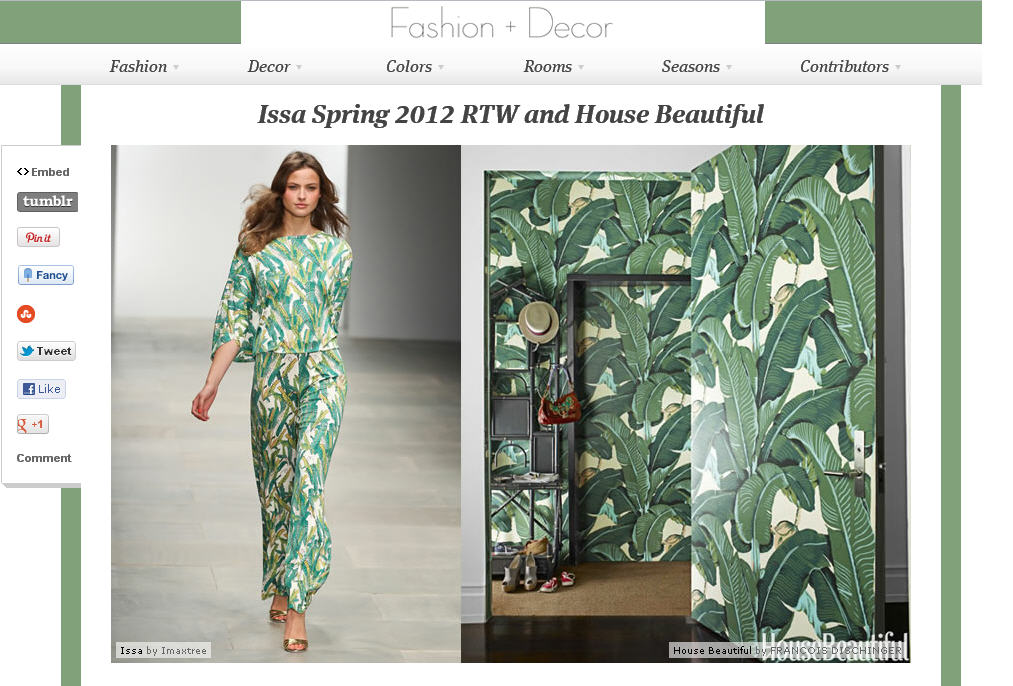 A Website that is a Community for Color
We'd be remiss if we didn't mention Colour Lovers as there is just about every aspect of color and design on one website!   From blogs to forums to tools and trends, it's pretty much one stop shopping for everything color.  Go for inspiration for everything and anything from wedding invitations to signage and advertising , to website design to interior décor and fashion.
As the whole site focuses on color, we love how they go into great detail. For instance, they dedicate an entire blog post to the color "Robins Egg Blue" or the discussions about the many colors of pearls.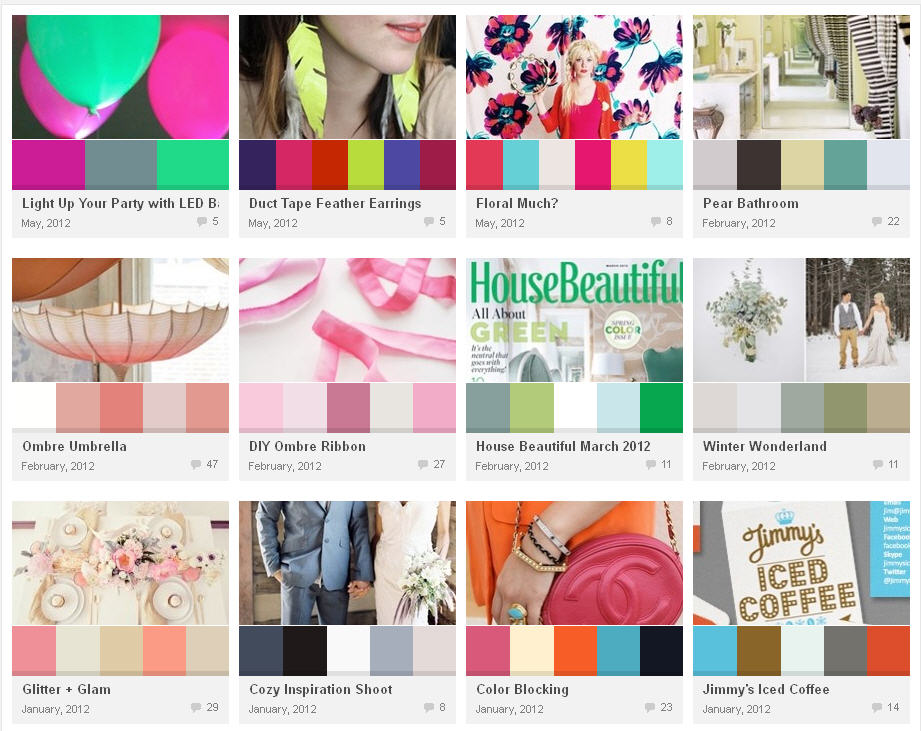 A Coloring Website That's Made for Kids
The younger set will be occupied for hours with The Color. Taking the basic coloring book and moving it online, children first choose a line drawing from the many, many selections. Choices include the standard kid favorites like princesses and dinosaurs, unicorns and farm animals.  After choosing a basic line drawing, a simple color picker opens up and kids can then click to fill in the open spaces with the colors of their choice.  The finished art can be emailed to Grandma or if kids create a free account, saved in their gallery.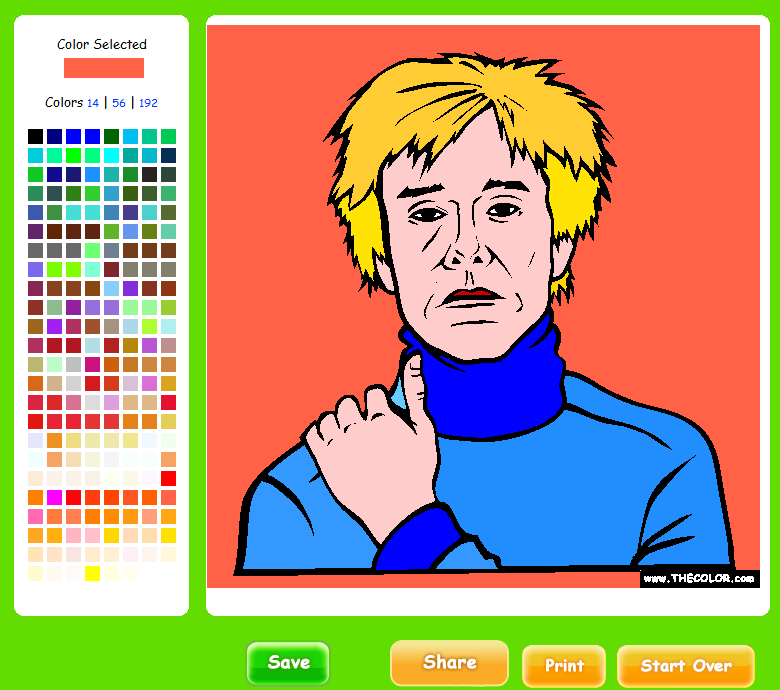 Just a Cool Color Website
Part film, part fun, part informative, Claudia Cortes' Color in Motion website has got to be enjoyed.  Called  "An Animated and Interactive Experience of Color Communication and Color Symbolism," each of the main color "stars", red, orange, yellow, green, blue & purple walk about to snappy music. Take a gander through, literally, three doors and you can learn more about the colors, their uses, and then… you can play around and make your own "color" story.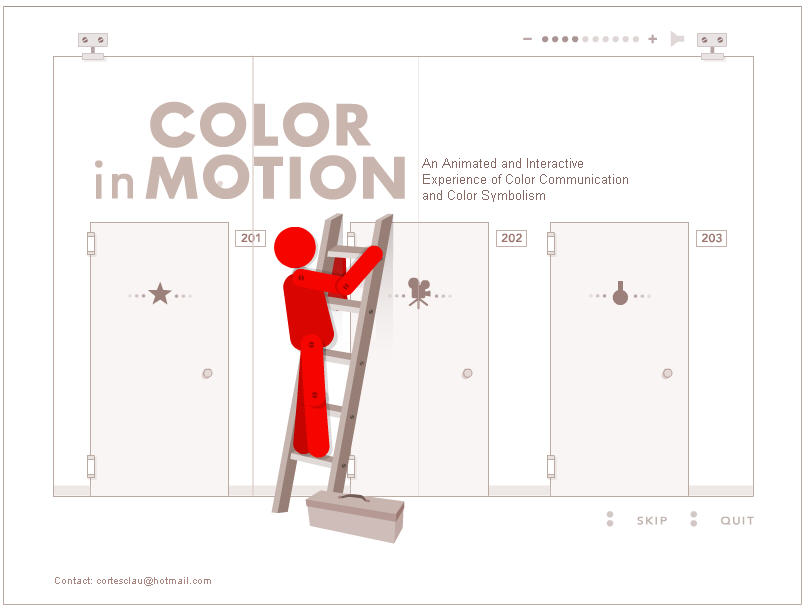 Now that's colorful!  Those are our favorite colorful websites this time around. Stay tuned, we will be bringing you more of these sites in the future. In the meantime, tell us what's on your cool color website hot list.  Do you have a new favorite that speaks to the colors inside you?