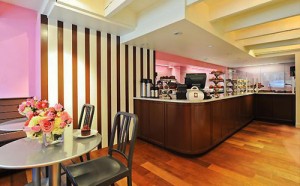 Colorway Design for Branding
The Munsell color system is a tool that I rely on to accurately identify colors in the field. In many cases it's a basis on which I accurately locate an existing color or select a colorway design for a finish to be installed in the project.
Within a past corporate space design, I used the Munsell color system in many instances throughout the scope of the project to identify and select color. The clients had an existing graphic to represent their logo and wanted that color branding to be carried through a portion of the finishes, including paint. I used the Munsell color system to accurately identify the colors within their logo and had the color formula recreated in a Benjamin Moore paint.
Selecting a Color Palette to Streamline Costs
In the same project, I selected cafe chairs with metal finishes for the kitchen area. The finishes offered within the standard line of the specified chair did not comply with our created color palette. To resolve the limited finish selection, I used the Munsell color system to select a custom color for a metal powder coat that would be applied to our cafe chairs. Throughout the process, I was able to refer the clients to a color within the Munsell system and in turn they could refer to the precise color palette selection, leaving no room for question. This allowed for a smoother and more seamless color selection and design process, which affected the budget and the overall outcome of the project.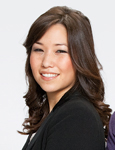 Bio:
Interior Designer, Jennifer Glickman, is the owner of Boston based design firm, Glickman Design Studio. She specializes in restaurant, residential, hospitality, and corporate design. Her clients include Todd English, Paul O'Connell and other talented Boston chefs. In addition, her residential work can be seen throughout New England. Her work has been featured in media including Benjamin Moore Nuance, StyleBoston, and Blog Talk Radio.