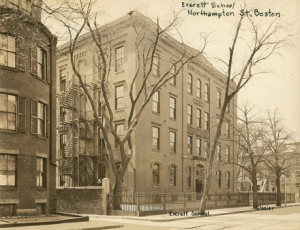 If your ancestors attended a Boston primary school circa 1904 or later, it is likely that they would have learned about color from Munsell's early color primer, which he refers to in his diary as "MSS."  Working with Miss Peterson, the Superintendent of Drawing for Boston Schools and Mr. Myron T. Pritchard, Master of the Everett School in Boston, Munsell continued to pursue a color education primer for grammar and middle school students.
Munsell Color Theory & Color Education in Boston
In late September/early October of 1904, Munsell's meeting with Miss Peterson and Mr. Pritchard finalized the color education primer.  They mainly discussed grades four through nine, and the conversation between Munsell, Miss Peterson and Mr. Pritchard sounded something like this (mostly Miss Peterson and Mr. Pritchard firing questions):
Is solar spectrum a standard – is your circle of hues like it? (Of course, we already know the answer is yes.) How did you get that red?  Is it measured . . . by whom; by what? (Munsell used the photometer to measure color, which he had been working on in parallel with his color education work.) Can children find any color in your sphere? (That's what makes the Munsell Color Theory so brilliant – any color fits within his model.)  In his diary, Munsell describes, "What this system will do for the child that others cannot do:  describes a color (locates), relate the color to others, writes by a notation, names harmonize and find them."  This statement still holds true when describing today's Munsell Books of Color.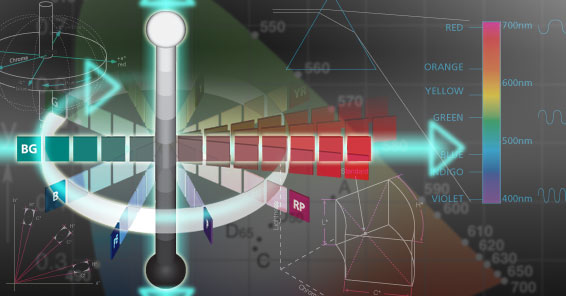 By the end of the meeting the three agreed to demonstrate the "rules" of the Munsell Color Theory by starting with a few harmonious groups of color for each grade.  In his diary, Munsell details the book format as having 28 lines of text and 252 words on the cover; 12,000 words and 50 pages in the body.  A total of 500 copies were printed – 300 for Boston's primary schools and 200 for Boston's grammar schools.
Color Education & a Multi-tasking Munsell
Munsell's color education primer was published shortly before his most notable, A Color Notation, which first published in 1905.  During the development of the primer Munsell had also been working for several years on his photometer, an early color measurement device, which Munsell developed with the guidance of several thought leaders in the areas of physics and science.  Munsell's photometer has already served a useful purpose as he develops his "color enamels" and papers (to demonstrate Munsell Color Space) and continues to lecture on his system of color.
Learn more about Munsell color education.
References:
A. H. Munsell Color Diary, 1908-1918, Volume A Part 9.  Courtesy of Rochester Institute of Technology, Munsell Color Science Laboratory.