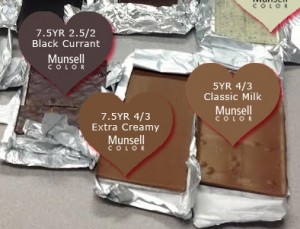 Happy Valentine's Day! To celebrate we decided to bring a bag full of chocolate bars down to the Munsell Color Lab to have them determine the color notation for each. There were some interesting discoveries along the way…
Color had a big effect on how people thought the chocolate would taste; they assumed the darker the chocolate the more bitter and the lighter the chocolate, the sweeter; that was not always the case.
The 99% was bitter, rooty and earthy; the dark, rich intensity of the color matched the intensity of the flavor.
The 42% Blood Orange won the favorite award; even one of the color analysts who is not a fan of chocolate liked it.
The texture in the white chocolates affected the colors; the white coconut chocolate leaned towards a yellow hue, while the cookies and cream white was more grey or desaturated.
The fruit in the chocolates also affected the color; for example, there was a purple hue in the chocolate with currants.
It was interesting to see how the milk chocolates varied, the extra creamy color was in the same chroma as the classic, but its hue was more yellow.
The cookies and cream flavored chocolate was challenging because of the two colors and how they combined to create other colors within the chocolate bar.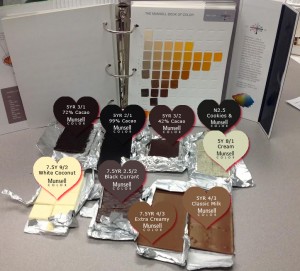 With 5 people on the color team and 8 bars of chocolate to color test and of course taste test, you can do the math and figure out it was a good day in the lab.
Did you get a box of chocolates this Valentine's Day? If so, what was the color notation? Did it match any in our test?