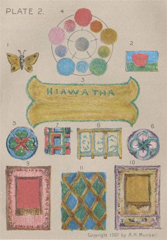 Ground breaking work in art and science color communication tools
Although best known for his groundbreaking work on a visually organized system of color—A Color Notation—Munsell was also an accomplished artist. He was known for his portrait paintings and seascapes of New England.
An 1881 graduate of the Massachusetts Normal Art School (today's Massachusetts College of Art and Design or "MassArt"), Munsell won several awards for his work while studying at L'Ecole des Beaux Arts (1885-1888).
Today's artists benefit from the work of Albert H. Munsell beyond his masterful A Color Notation.  Munsell had a passion for not only improving one's ability to communicate color accurately and effectively, but also for improving the tools of the artist's trade.  Anyone who's ever sketched using an artist's easel has Munsell to thank for making it adjustable and flexible to accommodate any size drawing board… at least those popular back in 1889 when Munsell received a U.S. patent for his newly designed artist's easel.
And the tool of choice for young budding artists everywhere, the Crayola Crayon, was also greatly influenced by Albert H. Munsell.  He developed his crayons in 1906.  The Munsell crayons were sold to the Binney & Smith Company in 1926 and for years were referred to as "Munsell Crayola" and "Munsell Perma."  The logo is an early rendition of the Munsell Color Tree.