August 26th is National Dog Day, a celebration of all dogs. Dogs play an important role in many people's lives, as companions that give unending love and loyalty. Working dogs are used by law enforcement as partners, as guides for people with disabilities, and as protectors sniffing out bombs or finding victims during disasters. They contribute nobly to the community, using their instincts, sensibilities, and physical skills to perform valuable duties that humans are not capable of. Most dogs, however, are pets. They stay by your side forever, and their every minute revolves around interaction with their people family.
We help celebrate our furry friends with these dog coloring charts.
Dog Coloring Charts
Dogs come in every shape and size. Little legs and long legs. Canine athletes and couch pooches. Ones with assertive personalities and those with a shy demeanor. Barkers on high alert and silent hounds who lay by the fireplace. Dogs also come in so many different colors, and these 'colorings' and 'markings' are often the difference maker with winning show dogs. While mixed breeds can intermingle every shade in the canine world, the pedigree dogs have ranges of typical colors distinct that are unique to each particular breed. A variety of the most popular breeds are profiled here, matching the dog hues to the Munsell system best matches.
If your favorite breed isn't here, let us know and we will add it to the list.
Golden Retriever Coloring
Affectionate, playful and friendly by nature, this sporting breed is task driven to bring you your morning paper in bed or retrieve a stick thrown in the water. They are naturally athletic to train in agility skills and they make great companions as guide or therapy dogs. Colors range from dark golden, to gold, to light golden.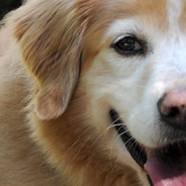 5Y 9/2
2.5Y 8/4
10YR 7/8
7.5YR 5/10
2.5YR 4/10
5YR 3/8
Laborador Retriever Coloring
Hardworking and ready to please, their intelligence has made them one of the top breeds of companion, hunting, guide, and search and rescue dogs. Take them for a hike, a swim, or in the backyard to play fetch and they will be abound with energy. Colors are typically: chocolate, which range from light tan to dark brown, yellow, is shades of white, gold, or red, and black, in sometimes lighter variations that can appear reddish or even charcoal.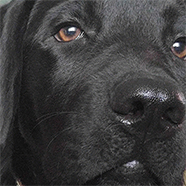 2.5Y 8/4
10YR 7/8
10R 4/6
10YR 2/2
5BG 1/2
Bulldog Coloring
With their wrinkly smooched faces and droopy jowls, these laid back, gentle dogs have a high tolerance and good temperament, making them exceptional companions for children. Stocky and heavy they come in a wide array of colors: red, red and white, red brindle, red brindle and white, fallow, fawn, fawn and brindle, and white. There are also some rarer colors like blue, lilac, black, chocolate, and merle.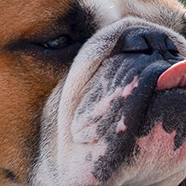 N 9/
2.5Y 7/4
10YR 6/6
5YR 6/8
10R 4/6
10YR 2/2
German Shepard Coloring
This working dog is known for it devotion to its owner and a popular guard or service breed because of its fearless disposition. They love to be mentally and physically challenged whether it is as a herder, a watchdog, an exercise partner, or police dog. Bi-color, black, black and cream, black and red, black and silver, black and tan, blue, gray, liver, sable, and white are the colors you will see on these dogs.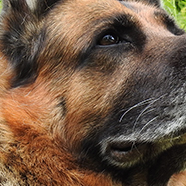 5Y 9/2
10YR 6/6
10R 4/6
2.5BG 8/2
10B 4/2
5BG 1/2
Rottweiler Coloring
This large and powerful breed is fearless, protective, and playful. Their strength makes them exceptional at pulling carts and their observant nature makes them ideal as guard dogs. Calm, confident, and courageous, they love mental and physical stimulation. Their colors are: black and mahogany, black and rust, or black and tan.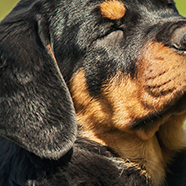 10YR 6/6
5YR 7/8
2.5YR 4/10
10YR 2/2
5BG 1/2
Beagle Coloring
These happy-go-lucky hounds have noses that know. A walk with them and their noses hit the ground, hot on the trail of the scent they just picked up. This olfactory talent makes them great service dogs for detecting bombs and sniffing out drugs. Their pack mentality means they love to bond with people or other pets. Most commonly seen in: black and tan, black red and white, black tan and bluetick, black tan and white, blue tan and white, brown and white, brown white and tan, lemon and white, red and white, tan and white.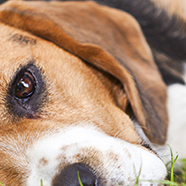 N 9/
10YR 6/6
10R 4/6
5YR 3/4
10B 4/2
5BG 1/
Poodle Coloring
These popular pooches come in three sizes, standard, miniature and toy. They are highly intelligent and skilled at swimming and retrieving. Their extreme alertness and loyalty makes them excellent watchdogs. Eager to please, they are often clever and playful. Colors you will see their coats are: apricot, black, blue, brown, cream, gray, red, silver, silver beige, and white..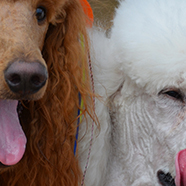 N 9/
10YR 7/4
5YR 3/4
2.5BG 8/2
10B 4/2
5BG 1/2
Dachshund Coloring
A.K.A. Weiner dog because of it's resemblance to the hot dog, their stocky long frame makes them good at crawling into animal dens or digging tunnels to draw animals out of their hiding spots. They are the smallest of the hunting breeds and their intelligent and naturally curious ways means they can sometimes be determined. Common colors seen are: black and cream, black and tan, blue and cream, blue and tan, chocolate and cream, cream, fawn and cream, fawn and tan, red, and wheaten.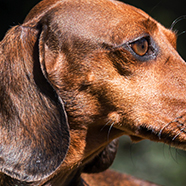 5Y 9/2
10YR 6/6
10R 4/6
10YR 2/2
10B 4/2
5BG 1/2
Yorkshire Terriers Coloring
A.K.A. Yorkie are a toy dog breed with an upbeat and spunky personality. These great companion dogs are typically intelligent and quick to learn. Whether a lively terrier or a pampered lap dog, their curiosity will send them dashing about to explore. Their colors range from: black and gold, black and tan, to blue and gold, and blue and tan.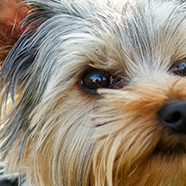 10YR 7/8
10YR 6/6
10B 4/
5BG 1/2
Mixed Breed Coloring
Often referred to lovingly as mutts, these dogs can come in any size, shape or color. From tiny perky ears, to giant floppy ones, from short snouts to long noses, these dogs can be a mash-up of one to several dog types. For this reason, their colors can range from the darkest black to the whitest white and every color combination in between.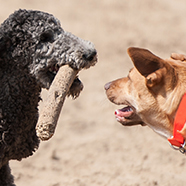 N 9/2
2.5Y 7/4
10YR 6/6
10R 4/6
5YR 3/4
5BG 1/2
How to Notate Your Best Friend
Is your dog all one color? Black and white speckled? Red, white and a subtle splash of borderline blue? Match up the coat on your Fido, Prince, Lucky or Spike with the distinctive, intricate shades of color that make your companion the most unique dog in the whole world.
It will be a fun challenge to determine what Munsell notations your dog has! Pull out that book of color and start matching. They will appreciate all the attention they get when you stare at their furry bodies and perhaps notice all the details in their coloring for the first time.
The Tell Us All About Your Dog
Since everyone loves talking about their pets, once you are done, tell us what colors your dog carries around all day. If instead, felines are you favorites, or fish, a pet iguana, chimp, or frog – tell us about their colors too. (These Munsell color notations will help the authorities identify your frog when it escapes out the window!)